Sunday 02/05/23, TeQ I.Q. 10% Off Smart Devices Daily Deal!
--------------------------------------------------------------------------------------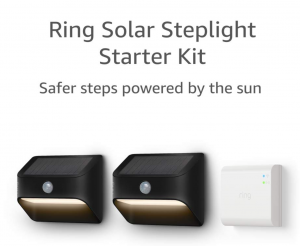 ---------------------------------------------------------------------------------------------------------------------------------
----------------
Headline:
-----------------
Ring Solar Steplight, Outdoor Motion-Sensor Security Light
------------------
Cost: $70
------------------
Body:
------------
10% Off with TeQ I.Q. 20+ years of Smart Devices and White Glove Expert Installation, Setup and Training!
-------------------
Use Case:
--------------------
GREAT for Homes, Rental Properties & Businesses!
Ring Bridge included – this Starter Kit includes a Ring Bridge so that you may enable smart features for your Ring Smart Lights.
Smart features – when connected to a Ring Bridge, get mobile notifications, set schedules, turn the lights on and off, customize settings, and connect to other Ring devices – all from the Ring app.
-----------------------
Product Info:
------------------------
Ring Solar Steplight, Outdoor Motion-Sensor Security Light, Black (Starter Kit: 2-pack).
Retails for $110
https://www.teqiq.com/daily-deal/
Call Robert to Order at 619-393-1998
----------------------------------
Extra Offer & Website:
-----------------------------------
We also can set you up for Cord Cutting and have the Best Cord Cutting Experience.
We also have Phone and Internet Bundle Pricing.
Contact Robert at 619-393-1998
Go to https://www.teqiq.com/tv-install/
________________________________________________________________________________________________________
"Fortune Favors, Who Value Time over Money!"
"TeQ I.Q. was the 1st IT Company to Deliver Cloud Solutions since 2003"
Tech issues taking up your Time?
"TeQ I.Q. Makes Your Technology Simple and Easy"
Do you have Tech Frustrations like your Computer, Internet, Phone, Cellphone, Camera, TV, Car?
     "Buy a TV from TeQ I.Q. with Ease and We Install it for Free!"
"We Take Away Your Tech Frustrations and Give You the Free Time You Deserve!"
Call Robert to ask all your Technology questions.
We now Sell, Install, Setup and Train for Smart Devices our webpage https://www.teqiq.com/smarthome/
For Free Consultation Call Now Robert Black at (619) 255-4180 or visit our website https://www.teqiq.com/
Chase Bank and Others Trust TeQ I.Q. with their IT and TeQnology so can you!