TeQ I.Q. provides The All In One (UCAAS) Phone Service.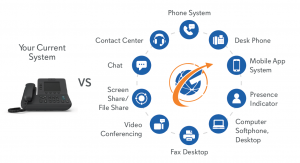 Small businesses don't need small phone systems. The earliest adopters of new technology are growing businesses with big ideas. Let your phone system reflect your ambitions.
We Now Have Special T-Mobile Plans at https://teqiq.com/tmobile
Sound Big
With advanced features like Mobile App Phone/SMS/MMS/IM Chat, Computer Phone/SMS/MMS/IM Chat, Browser Phone/SMS/MMS/IM Chat, Auto Attendant, dial-by-name directory and voicemail to email and Transcription, Video Conferencing your customers will know they are dealing with a company who's serious about their business.
Easy To Set Up And Manage
Be up and running in as little as an hour with free remote setup assistance. No need for training – just manage your system easily from your web browser. Rest easy with automatic software updates.
Freedom to Work From Anywhere
VOIP Phone offers your employees the ability to work from anywhere there is an Internet connection. Take your office phone home or Mobile App on the SmartPhone (Android, iPhone, iPad, iOS)  on the road, or with advanced call forwarding options forward your office extension to any mobile or external number. Add a softphone and answer calls directly on your laptop.
Low Up-Front And Monthly Costs
Get the advanced functionality of a traditional, premise phone system without the costly, initial investment. Purchase or rent a variety of phones with no contract and free calling.
Customized Features
We can customize features for you if you don't see them on the list of features below.
Solution Features
Unlimited Local and Long Distance Calling
Mobile App With Phone/SMS/MMS/IM Chat
Computer With Phone/SMS/MMS/IM Chat
Browser With Phone/SMS/MMS/IM Chat
Private Secure IM Chat
Video Conferencing
Unlimited Voicemail Storage
Voicemail-to-Email
Auto-Attendant/Receptionist
Dial-by-Name Directory
Night Mode/Holiday Scheduler
Music-on-Hold
Call Hold, Parking and Transfer
Call Blocking
Caller I.D. Notification
Unique Caller I.D.
Voicemail Transcription to Text or eMail
Call Screening
Live Receptionist
Virtual PBX
Customizable Music or Advertisement on Hold
Dashboard/Flash Panel
Virtual Fax
Intercom
Call Recording
Call Forwarding
Call Transfer
Music on Hold
3-Way Calling/Conferencing
Caller I.D.
Call Waiting with Caller I.D.
Find Me/Follow Me
Voicemail Notifications
What Is Included With My Phone System
Month to Month Contract
Free Installation & Training
Free Local Support
Emergency 911
Dedicated phone numbers
Number Porting
Toll-free numbers and virtual lines (Optional)
Pre-configured router (Optional)
Why Choose VOIP
All-inclusive solution: features, phones, and service
Low monthly plans with no contract or commitment, risk free
No additional hardware or server, plug in phones and go
Keep your existing phone numbers and Internet service
Connect your phone wherever your employees are located
Emergency support 24/7
Scalable as your company grows
Click here for the Business Hosted PBX Phone Flyer
Click here for the Business Hosted PBX Phone Service Order Form
Click here for the Business Hosted PBX Phone Features Order Form
Click here for the Business Hosted PBX Fax Service Order Form
Click here for the Phone Features
Click here for the Phone Features Code List
Click here for the Phone Instructions