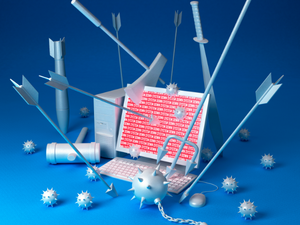 Data allegedly stolen from Cincinnati State Technical and Community College has been leaked after Vice Society attacked the campus.
Many of the stolen documents were posted on the hackers' websites. These documents date from several years ago until November 24, 2022, suggesting that threat actors still have access to the compromised systems, but this has not been confirmed. The leaked files contain personally identifiable information and can be accessed freely.
Impact on College Resources
Earlier this month, Cincinnati State College notified its 10,000 students and 1,000 employees that they had suffered a cybersecurity attack. Campus officials warned that restoring online services and regular operations would take time.
Earlier this week, the university announced that some internet access, classroom computers, and on-campus email had been restored after the cyberattack. However, many online applications, registration portals, voicemail, network printing, VPN access, and other resources remain unavailable.
For the time being, the college has posted FAQs to guide employees, current students, and new students on how to interact with the college administration. However, the disruption caused by the cyberattack remains significant for the college, as workarounds are not available for all services.
Vice Society 
There is a long history of Vice Society targeting educational institutions, ranging from K-12 schools to universities. Vice Society's disproportionate targeting of schools and universities prompted the FBI to issue a warning in September.
Among Vice Society's more recent victims was Los Angeles Unified (LAUSD), the second-largest school district in the country. However, Vice Society has also been associated with other attacks worldwide.
If this tip helps and you would like to donate click on the button. Thanks In Advance
________________________________________________________________________________________________________
"Fortune Favors, Who Value Time over Money!"
"TeQ I.Q. was the 1st IT Company to Deliver Cloud Solutions since 2003"
Tech issues taking up your Time?
"TeQ I.Q. Makes Your Technology Simple and Easy"
Do you have Tech Frustrations like your Computer, Internet, Phone, Cellphone, Camera, TV, Car?
     "Buy a TV from TeQ I.Q. with Ease and We Install it for Free!"
"We Take Away Your Tech Frustrations and Give You the Free Time You Deserve!"
Call Robert to ask all your Technology questions.
We are giving a Free in Person TeQ Seminar at our office in La Mesa every Wednesday from 12pm-1pm and a Free TeQ Support Q&A from 1pm-2pm. Go to https://www.teqiq.com/events for our upcoming Events and https://www.teqiq.com/seminars for info on each Seminar.
For Free Consultation Call Now Robert Black at (619) 255-4180 or visit our website https://www.teqiq.com/
Chase Bank and Others Trust TeQ I.Q. with their IT and TeQnology so can you!