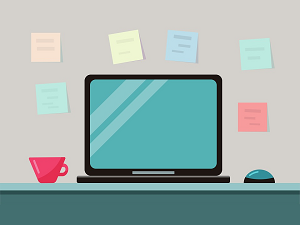 Are you the type of person who is in the habit of keeping all their apps open?  If so, you're going to love a recent addition to Windows 11.
In a bid to make finding your open apps easier, once you've run out of room on the Windows Taskbar, they've introduced a new "taskbar overflow" feature.  It's a three-dot menu that appears when there's no more space on the taskbar that hides all the other apps you are running that don't have room to be displayed there.
This is a vast improvement over the Windows 10 overflow, which only shows the most recent app that has been used or has been opened.
If you're not a power user, you probably won't even notice the change. If you are, once you give the new feature a try you'll probably wonder how you ever got along without it.  In our view, it's right up there with tabbed browsing.  It's something that doesn't seem at first glance like it would make much of a difference, but its impact is profound.
There has been quite a lot of that kind of thinking going into the design of Windows 11, and we have to say we're impressed by the way the new OS is shaping up so far.  If this and other small but important innovations are any indication (and we absolutely believe that they are) then Windows 11 is going to be an absolute game changer when it's released.
Kudos to Microsoft for really going the extra mile both in terms of updating and modernizing the overall Windows aesthetic and also for putting their collective thinking caps on and coming up with solutions to problems that really detract from the overall user experience.  Keep up the good work, and Windows 11 is going to be amazing.
If this tip helps and you would like to donate click on the button. Thanks In Advance
________________________________________________________________________________________________________
"Fortune Favors, Who Value Time over Money!"
"TeQ I.Q. was the 1st IT Company to Deliver Cloud Solutions since 2003"
Tech issues taking up your Time?
"TeQ I.Q. Makes Your Technology Simple and Easy"
Do you have Tech Frustrations like your Computer, Internet, Phone, Cellphone, Camera, TV, Car?
     "We Take Away Your Tech Frustrations and Give You the Free Time You Deserve!"
Call Robert to ask all your Technology questions.
We are giving a Free in Person TeQ Seminar at our office in La Mesa every Wednesday from 12pm-1pm and a Free TeQ Support Q&A from 1pm-2pm. Go to https://www.teqiq.com/events for our upcoming Events and https://www.teqiq.com/seminars for info on each Seminar.
For Free Consultation Call Now Robert Black at (619) 255-4180 or visit our website https://www.teqiq.com/
Chase Bank and Others Trust TeQ I.Q. with their IT and TeQnology so can you!