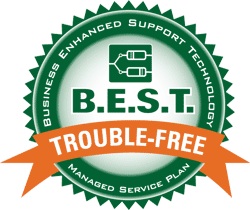 At TeQ I.Q. we recognize the critical role that computers, networks, and technology in general plays in every small business. From email and word processing to online banking and e-commerce, every small business depends on technology to maximize their productivity and their profitability. But what happens when your technology lets you down? How much staff time is wasted dealing with slow computer or system crashes? How much of your time is spent answering software questions for others in the office? And if your system crashes, how do you recover your data? That's why we created Worry Free Business Enhanced Support Technology (B.E.S.T.), the industry's leading support plan for small businesses.
For a flat monthly fee of $70 a month we do the following:
Handle any computer, network, or server problem (including Windows, Virus, & Spyware problems) via remote support or on-site.
Monitor your technology 24/7, including preventing up to 80% of all computer problems before our customers are even aware of them.
Install advanced remote support tools to enable our team to diagnose and resolve problems quickly if they do occur.
Monitor your backup system to be sure your data is backed up safely.
Provide a Helpdesk so all your employees have prompt, easy access to high quality support consultants anytime they have a computer question or problem.
Manage all your Technology Vendors for you (Internet, Phones, Business Applications).
Guarantee No Downtime (on our Trouble-Free plan).

Click below to add $70 monthly fee.