TeQ I.Q. FREE Smart TV Service
go to our TV Store http://teqiq.tv/client/cart.php
STOP OVERPAYING FOR CABLE!
TeQ I.Q. Live Premium TV for only $20 a month!
You can watch All your Live Premium TV 320 plus channels and On Demand Commercial Free TV Shows and Movies on your Home Television and AnyWhere You Travel too!
Now We Just Launched our TeQ I.Q. TV App to watch all our Live Premium TV and On Demand Commercial Free TV Shows and Movies AnyWhere You Travel too with every box you also get our TeQ I.Q. TV App for either your Android Phone or Tablet!
We make your TV truly Smart with full functionality for all your devices ie… (TV, Android, Windows and IOS).
Risk Free 30-Day Trial with No Contract!
"WATCH WHAT YOU WANT, WHEN YOU WANT IT"
New and Old On Demand Movies and Commercial Free TV Shows
We have a fully supported custom built TV service.
Call for Free in Home or Business Demo! Call (855) 661-7300
Click on the Video to see a 5 minute introduction of TeQ I.Q. TV​
Click on this link to see a larger picture of TeQ I.Q. TV Home Screen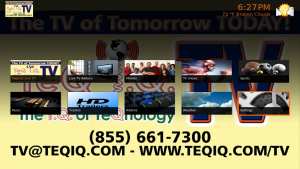 Click on this link to see a larger picture of TeQ I.Q. Comparison Chart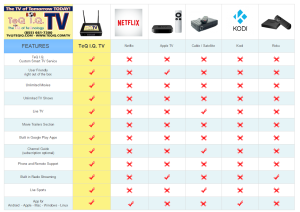 TeQ I.Q. Smart TV Service: includes New and Old On Demand Movies and Commercial Free TV Shows, Live and Local channels, Sports, Cartoons, Millions of Videos & Clips, Educational content, Scientific content, Documentaries and just about anything else you would ever want to watch. TeQ I.Q. Smart TV Service is now being sold and continuously updated to add new content, increase the user experience and promote a better, more affordable way to indulge in all your digital entertainment needs. The system will automatically update so the end user (you) always has access to all the newest and most up-to-date content available. We have also incorporated an extensive selection of customizable features so the beginner and advanced user alike will all be able to use and enjoy every aspect of the TeQ I.Q. Smart TV Service. In addition, you will have the ability to download apps, create music & video playlists, surf the web and indulge in social media.
Yes! TeQ I.Q. Smart TV Service gives Unlimited access to Movies, TV Series, Live Channels, Live International, Live Sports, Radio Stations Streams, PPV Events, Cartoons, Apps, Music, Books, Games, Documentaries, Sports, Fights, Boxing, MMA, Fishing, Hunting, Android OS, PC, Linux, Android Computer, Full Internet Access, WiFi built in, Bluetooth, Foreign, Premium Channels, Premium Movies, Premium Shows, No Commercials etc.
This is the Future of Entertainment: Your TeQ I.Q. Smart TV Service brings you a new way to use a computer on your TV and watch without many of the modern headaches associated with television today like commercials and scheduling. Additionally, users will have the freedom to access quality entertainment that was otherwise unattainable due to monetary limitations or just simply not knowing where & how to obtain it. This is an immersive experience that blends a tablet operating system with aspects & features of a computer, which displays on any TV whether HD or not. Furthermore, you will have an ever growing library of choices that expands with the internet, as well as, full Android capability including apps etc.
Includes a Lifetime warranty on the hardware from TeQ I.Q.
Function: Requires any internet connection (Wi-Fi or Ethernet) to use and enjoy. Utilizes a very easy and exclusive tile and guide based format which makes for a simple and fun way to watch TV. You can also plug in a mini USB-HDMI cord to connect your Smartphone to a TV with an HDMI connection so you can watch on a big screen too.
Cut the Cable & Ditch the Dish: Basically, after replacing your current cable or satellite system with the customized TeQ I.Q. Smart TV Service you will immediately cut your costs and break even in just 2-7 months Every month after that the savings go right back into your pocket - Just do the math!
1. Local Channels (ABC, CBS, NBC, FOX, CW)
2. Cable Channels (ALL THE CABLE CHANNELS you get with all the TV providers)
3. Live Football Games
4. Live Baseball
5. Live Basketball
6. Live Hockey
7. Live World Soccer
8. Special Events
9. International Channels (BBC, Russia TV, Mexico and MANY MORE)
10. International Sports (Canada, UK, Mexico and MANY OTHER COUNTRIES)
11. New and Old On Demand Movies
12. New and Old On Demand Commercial Free TV shows
13. Famous Provider Streaming & Programming
14. 3D TV
15. 4K TV
16. YouTube
17. Radio Streaming
and so much more with TeQ I.Q. Smart TV Service you get the easiest, best and most programming anywhere.
Is It legal?
TeQ I.Q. TV Box is 100% Legal. The TeQ I.Q. TV Box utilizes third party programs written externally by programmers and developers via OTT content and IPTV services. These programs basically create a bridge between licensed online entertainment streams created by 3rd party developers and providers, and the custom software installed to the TeQ I.Q. TV Box. You are not hosting, downloading or uploading the content. Neither are we.
PLEASE ASK US ABOUT OUR REFERRAL BONUS PROGRAM $$$